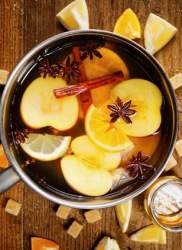 As afternoons shadow early and the evenings cool, we long for our cozy "hearth" and home. Certain spicy "fall" aromas start to smell appealing. These natural scents actually serve us as they enter our systems through our lungs and skin. When we are not cooking, it is tempting to mimic those aromas with candles and air fresheners. But please think about what you are introducing into the atmosphere of your sacred space.
Vapors and Smoke



Did you know that burning candles and spraying air fresheners release varying degrees of chemicals and soot which can irritate the lungs and link you to serious illness? Some heavy fragrances allow limonene to react with ozone which adds unwanted formaldehyde into your home.

Fret not if you added some whiffs of store bought sweetness in your day, but starting this season, try to crowd in natural aromas to satisfy your smelling.



Here are 5 Ideas:
Mulled Cider
Slow simmer on the stove. Look for locally pressed cider and place in pot with mulling spices and fruits such as cinnamon, allspice, cloves and sliced oranges. These spices also add valuable micronutrients to your brew. For example, allspice is known to relieve muscle and arthritis pain. Your home will emanate with autumn sweet smelling comfort before and after you enjoy drinking the cider.
Yogi Tea
Similarly simmer to produce pleasing spice fragrance as well as upper respiratory relief from congestion. Yogi tea is easily made by boiling over a gallon of water with cardamom pods, cinnamon sticks, ginger, cloves and peppercorns. After spices have simmered, add a black or green tea bag. Let infuse and enjoy a cup of comfort.
Essential Oils
Explore a more natural way to infuse pleasant odor into the air without the chemical agents of commercial air fresheners. Make sure you have a pure product and no sensitivity to a particular plant oil. Purveyors of essential oils sell systems worth investigating to infuse the air in your home with many beautiful flower and plant oils from nature.
Cooking and Baking with Fall Bounty
We all know how welcoming baking pumpkin breads and other epicurean delights smell in a home. Try out recipes with whole grains and minimal natural sweeteners for baking. Savory soups with roots, squash and spice also add pleasing aromas.

Beeswax Candles and Battery Glimmer

Opt for safer choices than commercially scented candles emitting precursors to health trouble. Soot also irritates many a respiratory system. For ambiance of candles... try clean, 100% beeswax products with a faint honey scent to sparkle a room. In addition, new fangled "fake" tea lights, pillars and votives with electric flames could help create your own inviting fairy land.