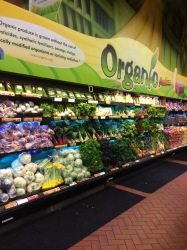 Why Consider Organic?



Organic produce is considered an unnecessary luxury. However, if you look at your food as medicine, you could reap desirable side affects of choosing organic. They include: avoiding allergic reactions, reducing cancer risk from toxic substance build up, enhancing nutrient density as well as a cleaner environment where you live, work and play. Although organic foods may cost a bit more, they could very well reduce your future medical bills.



What to Buy Organic?



There are many plants that are easy to mass produce with minuscule amounts or no pesticides or even modified seeds. Feel free to buy conventional in these cases. How to know the difference you ask?



The Environmental Working Group (EWG) is a resource that keeps up on farming practices. They have a nice app. worth having on your phone as you shop! The following are the plants that they term as "dirty dozen" to buy organic and the "clean fifteen" to opt for conventional:




Clean Fifteen*


Avocados, Sweet Corn, Pineapples, Cabbage, Sweet Peas (frozen), Onions, Asparagus, Mangoes, Papayas, Kiwi, Eggplant, Grapefruit, Cantaloupe, Cauliflower, Sweet Potatoes

Dirty Dozen to buy

Organic*


Apples, Peaches, Nectarines, Strawberries, Grapes, Celery, Spinach, Sweet Bell Peppers, Cucumbers, Cherry Tomatoes, Snap Peas (imported), Potatoes

*Environmental Working Group 2016


Keep in Mind

Your local farmer may not have a USDA Organic Certification but may use little or no pesticides or laboratory altered seeds.





Where to Buy Organic


The local farmers market is an engaging place to shop with your family and friends. You will discover local produce and how to prepare it without a lot of fuss and flavor enhancement.

The health food store may have a fantastic selection and key sales that make the trip worthwhile. The supermarket may have an organic produce section if there is enough demand in your area. They could have favorable pricing for many in season items.

Many love the group buying price power of online organizations such as wholeshare.com. Some communities have active branches with easy sort and pick up. It is great way to meet your friends and neighbors too!

Another way to save is joining a CSA (Community Supported Agriculture)with another family and acquire interesting, fresh produce at considerable savings.