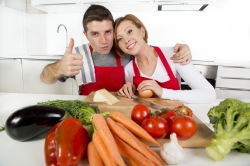 Does your marriage need some attention? Have the stresses of life faded the feeling of love you used to revel in? Do you want to get back to "the way things used to be?"
Life happens, and some events are not easily forgotten. But, if you are ready to step back into a loving relationship just in time to enjoy Valentine's Day, try these 5 simple suggestions. Love is still accessible.
Crowd in Daily Gratitude
Experts profess that we are attracted to people who we perceive fill needs that were unmet in our childhood.
As the relationship progresses and the person we have chosen naturally falls short of meeting those needs, daily disappointment could arise. But, if we put on our "adult" glasses, we will see that our pro-active choice to be grateful often prevents hurt and anger arising.
Stretch your gratitude "muscles" and see how they work for you!
Focus on the moment with little notes of thanks. Pen a thought and leave it in the car or on the nightstand. Mention something that makes you smile about your spouse. Appreciation for the little things can add up to big, happy vibes!
Mindful Communication
When having a conversation with your spouse, do you find yourself reacting or responding? A reaction is quick, rarely mindful, and often defensive.
The happiest relationships seem to be created when both people are on board with not just gratitude, but also mindful communication.
How do you communicate mindfully? First, for the heavy topics, try to broach them when both people are in a place to discuss. Then to really make your partner feel loved, repeat back to them their request . . . "I understand you prefer the door to always be locked." If this hits home for you, check out more about this method through Harville Hendrix and IMAGO therapy online.
Sense of Humor
If you survey happy relationships, most say their secret to success is wit and endless laughs. Even when faced with devastating trauma, couples have coped with humor.
Point out to each other what tickles your funny bone and "lighten the load" as you carry on with your day.
Try to do this as often as possible and you both will develop a unique banter. Feel your love flourish!
Renew Old Hobbies and Research New Adventures
If you fell in love playing tennis or hiking or going to movies, try them again as you mature. Likely they will still work for you. Maybe recreate an ace date somewhere you both love and remember. Propose new activities in your area and have something fun to look forward to each weekend. Concerts, hikes, tastings, historical tours, theatre, volunteering could all hold fresh appeal when you pursue them together!
Plan Meals Together
Too often, we rush through dinner when this is something that can be a restorative ritual. Delicious meals prepared with positive energy lead to relationship renewal.
Do you like different things? Start with the salad. Where do your salad components differ and where do they intersect? Does one of you like meat protein and the other happy with lots of legumes? Design a meal that allows each person to fill their plate with different size servings of the same ingredients. During dinner, discuss what you like and don't like about the meal. Are there ways you can make it taste better?
Everybody has individual cravings and balancing needs. If you are in tune with each other's food loves and body types, delicious creations evolve in your kitchen. Chatting about this will make way for super discoveries and taste sensations.
How about once a week you plan and cook a meal together . . . or even twice a week? It transforms the meal into not just a better meal, but a shared fulfillment of a quest.


Chocolate is For Lovers
Chocolate desserts need not be laden with refined sugar and white flour! Here are 2 whole food ideas to top off your 2016 Valentine's dinner:
Sweet Spheres
This dessert has protein, healthy fats and many micronutrients!
1 cup creamy organic almond butter
1/3 cup raw organic honey (or to taste)
1 Tablespoon raw cacao powder
1 teaspoon sea salt
1/2 cup unsweetened shredded coconut
1/3 cup packed pitted Medjool dates, chopped (about 5 large dates)
¼ cup raw sunflower seeds (or other seeds you like)
1/3-1/2 cup raw sesame seeds, for rolling (can also roll in coconut flakes)
In a large bowl, mix the almond butter, honey, cacao powder, cinnamon, and salt to combine. Stir in the shredded coconut, dates and sunflower seeds. Form the dough into 11/2 inch sheres, handling them as little as possible to avoid melting the almond butter too much. Roll the spheres in sesame seeds or coconut flakes to coat.
Peppermint Fudge from Dr. Axe
Lots of Coconut in this recipe as a healthy creamy alternative to dairy.
1/2 cup coconut oil
2/3 cup coconut butter/manna
1/2 cup coconut milk
1/2 cup raw honey
2 teaspoons peppermint extract
2/3 cup cocoa or raw cacao powder
In a double boiler over medium low heat, mix together the coconut oil, coconut butter, coconut milk, honey and peppermint extract until fully melted and combined.
Add the cocoa and stir until well incorporated.
Spread the fudge in an 8 x 8-inch pan or molds and place in the freezer for 2 hours.
Allow to thaw slightly before cutting and serving. Store any remaining fudge in the freezer.
Source: draxe.com Food is Medicine
Expert Source: Harville Hendrix, Phd. author of bestseller: Getting the Love You Want: A Guide for Couples